Jeonbuk Headquarters of the Korea SMEs and Startups Agency Signs an Ex…
Date

2023-03-07
본문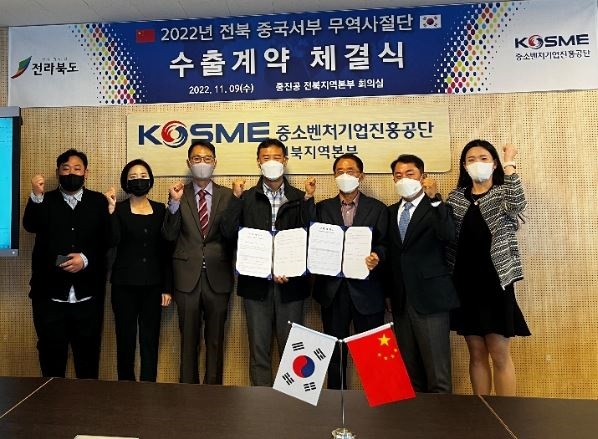 The Jeonbuk Regional Headquarters of the Small and Medium Venture Business Corporation (hereinafter referred to as the Joongjin Corporation) announced on the 14th that the export contract of CONF and Sungwon PCM (CEO victims) to China was signed through the Jeonbuk Western Trade Mission project this year. 
CONF (based in Gimje) signed an export contract worth 600,000 yuan (113 million won) with Chongqing Deeger Mao Co., Ltd. (CEO Gong Seon-jeong) to sell potion coffee, its flagship product, at Shingwangcheonji, a representative outlet in Chongqing.
Sungwon PCM Co., Ltd. (based in Jeonju) has signed an initial contract of 520,000 yuan (98 million won) with Yunnan Wair Import and Export Trade Co., Ltd. (CEO Jin Ji-young) to supply bronchial health functional foods to local marts and online stores in Unnam.
The contract was made through pre-marketing support programs such as Wang Hong marketing and various local mart promotional events in China, as a result of establishing a close cooperation system with Chongqing Export Incubator in western China.
The trade delegation specialized in pre-marketing support for companies that are unable to meet buyers due to the COVID-19 pandemic, and a total of nine companies operating promising local items such as beverages, health foods, cosmetics, and water purification filters arranged a total of 70 export consultations worth about $1.1 million (KRW 1.458 billion) worth of export consultations.
Prev.

There are no previous posts.